The Ferguson Plarre franchising model is simple and effective with no hidden costs and no baking in-store.
Ordered & Delivered Fresh Daily

Every store receives freshly baked, fully finished products daily, which means no baking or cooking is required in-store. Stores access a simple online ordering system, placing orders each evening, to receive fresh deliveries each morning. A dedicated team of on-staff drivers, using an energy efficient, carbon neutral fleet, deliver all products ready for each day's trade.
Online Purchasing App

Our franchisees have access to the Ferguson Plarre Online Purchasing App (OPA). This application is a simple digital way to order products for your store, ready for delivery on your chosen day.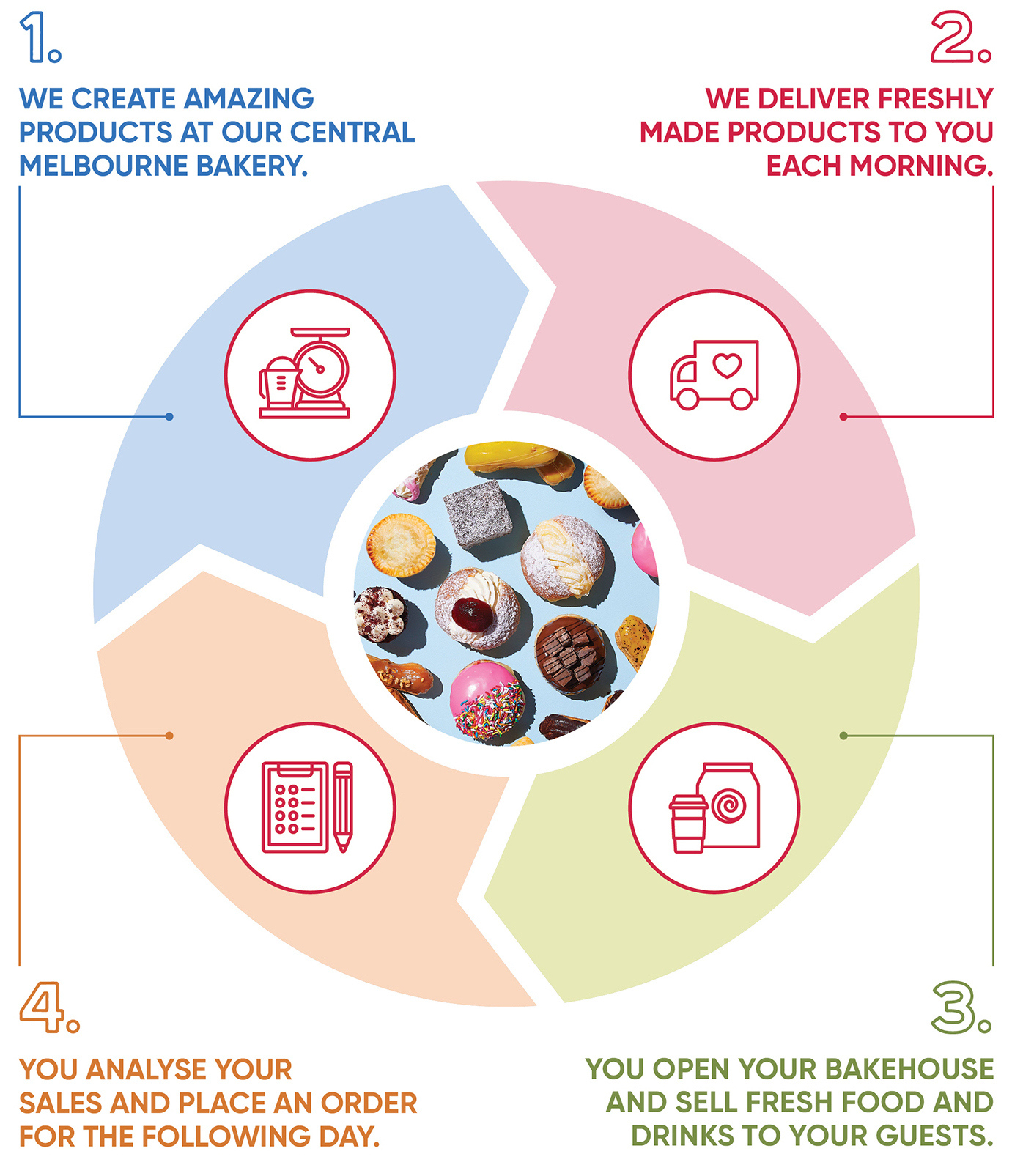 Return on Investment
Every individual franchise is affected by a significant number of variables that impact the profitability of their investment. As a result, we cannot give an accurate indication of what profit you can expect from the operation of your Ferguson Plarre franchise. Once you've made an enquiry and we have received your Application Form, we can supply you with Profit and Loss and Business Plan templates you can work with your accountant/financial adviser on in assessing the business.
No Royalty or Marketing Fees
Ferguson Plarre is your primary supplier. This means you simply purchase the products from us at wholesale pricing rates. Other than a small 3% admin levy at this rate we don't charge you a royalty like most other systems. The reason we can do this is because we are your baker and generate income from the products we sell to you. You keep your full profit margins on cold drinks, coffee, sandwiches and baked goods. You do not have to pay a marketing levy. We fund all national marketing campaigns and brand development from the sale price of our goods to you.
Initial Investment

Individual franchisees will typically have an estimated total store build investment of between $250,000 and $350,000 ex GST. Along with this is a one-off Franchise Fee of $55,000 and a Security deposit of $20,000 refundable on exit pending settlement of all arrears.
Your investment covers our training costs, legal documents, shop fit, equipment, opening store promotions and full access to our IP and store operating systems.

Sweet Simplicity
The Ferguson Plarre franchise model is one of the simplest franchise businesses available. Baking all our products centrally allows store owners to focus their attention on making high quality espresso coffee and delivering amazing customer service.
Enquire Now