6 Affordable Father's Day Gift Ideas That Will Make Dad Love You a CHOCO-LOT!
STOP! There's no need to begin a side hustle to help you afford a great present for the world's best dad.

Here at Ferguson Plarre, we want to help you BAKE DAD'S DAY without breaking the bank. Here are 6 affordable Father's Day gift ideas that will make the dad in your life love you a CHOCO-LOT!
Don't worry, we've made sure there's something for every-DADDY 😉
1. Welcoming back the BIG DADDY
Yep, a FOOTLONG Sausage Roll in a gift box - 31cm of scrumptious sausage wrapped in our famous flaky pastry, guaranteed to satisfy even the biggest of appetites. Packaged in our limited-edition BIG DADDY gift box for the perfect Father's Day gift and all for only $8.50
OR, if you're feeling generous, take dad out for lunch and shout him to a Big Daddy Meal Deal for only $13.50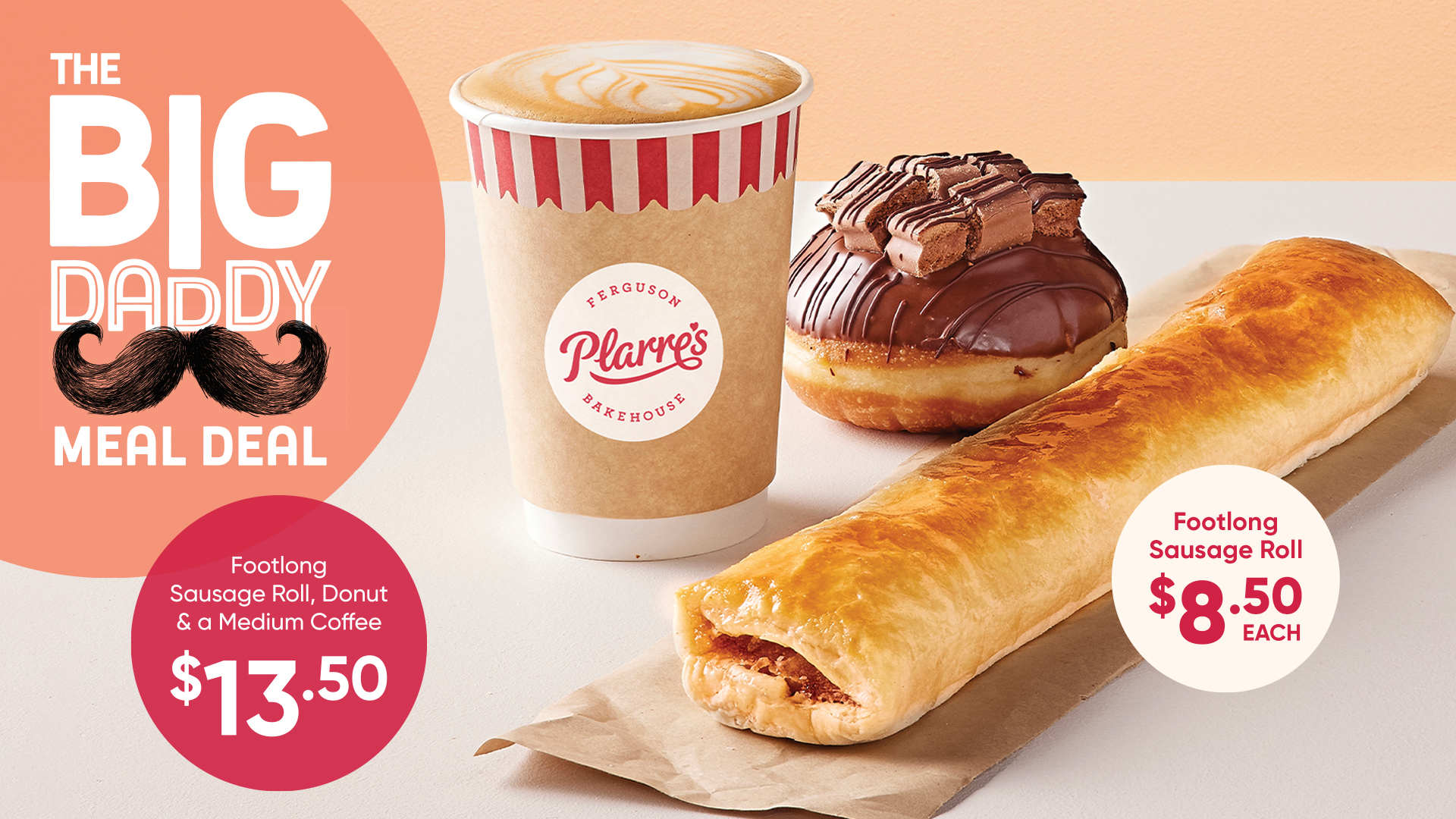 We've taken inspiration from the classic Kingston biscuit to create our own Golden Oat Chocolate Crunch. Each biscuit is packed full of oats, bound with golden syrup and filled with smooth milk chocolate.
This gift tin makes for the perfect Father's Day gift and will cost you $21.90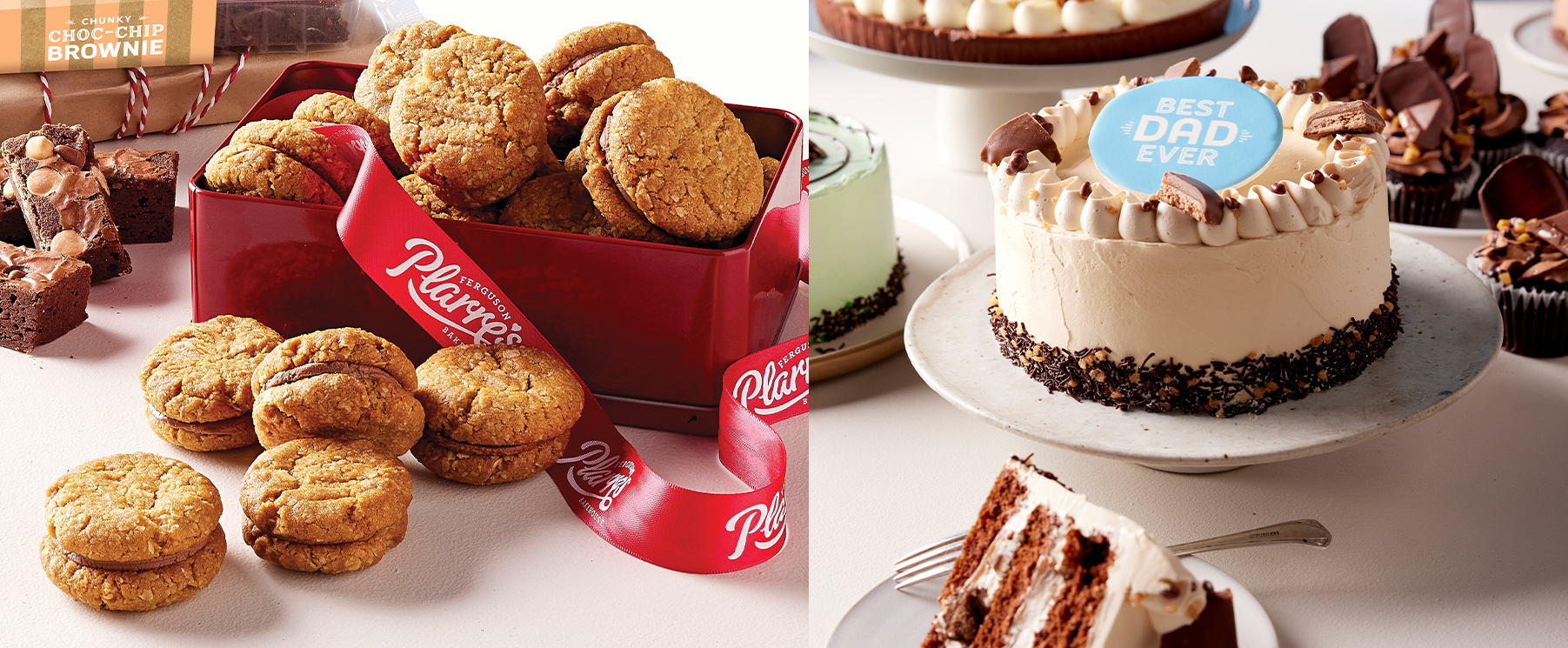 3. Introducing our NEW Crunch Layer Cakes
With two delicious flavours to choose from; Caramel and Choc Mint, these cakes are sure to be a crowd favourite and a present dad is going to want to crunch by himself.
Priced at $35 this delicious cake has two layers of light and fluffy chocolate sponge, sandwiched
with a layer of caramel cream or peppermint cream, crushed crunchy biscuit and decorated with a swiss meringue caramel cream or peppermint cream, chocolate sprinkles and shards of biscuits.

Win some extra brownie points with our delicious NEW Chunky Choc Chip Brownie. It's packed full of milk & white chocolate chips for an indulgent treat that's perfect to pair with a barista-made coffee. Or why not warm it up and serve it with ice cream, that's definitely going to bake dad happy. YUM!
Just $18.50 for Choco-lot of brownie (360g)!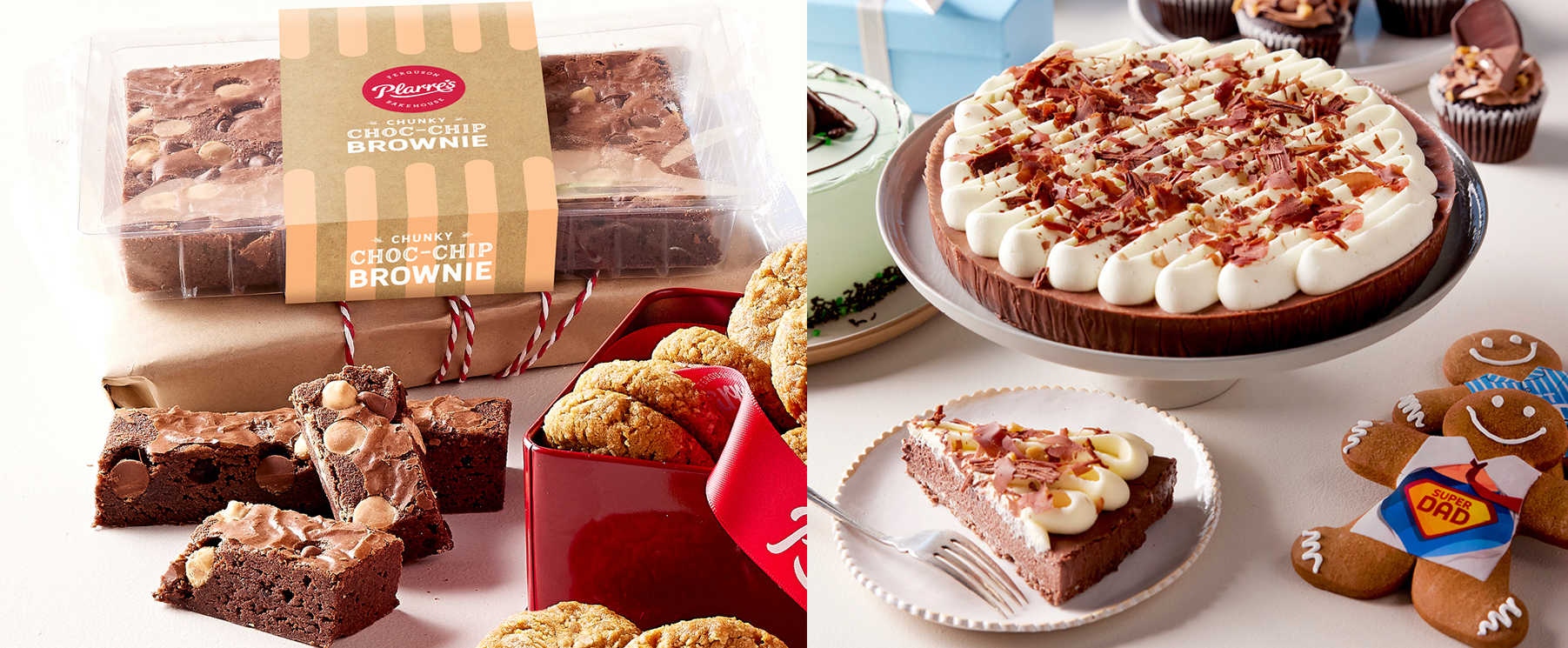 For the chocolate loving dad... Our Toblerone Cheesecake is made with a base of crushed chocolate shortbread, topped with chocolate cheesecake and decorated with fresh cream, chocolate flakes & chunks of hokey pokey.
For $36.50 bake his dreams come true with a cheesecake that's tobleronly for him.

6. Looking for something little?
A Gingerbread Man is a perfect treat to pair with his new jocks and socks!
Our classic Gingerbread Men ($4.95) are all dressed up and ready to show dad just how much you love him! With two new designs, you can let dad know he's the greatest without even needing to write it on a card.
What are you waiting for? Place your order online or visit your local Ferguson Plarre store today and bake dad's day on Sunday 4th of September!